2012 has been a fantastic year for English football. From seeing Manchester City clinch their first title in 44 years right at the death of the season to Chelsea's unbelievable exploits in the Champions League to lift the trophy, it has been a successful year for the sport in this country, and definitely one that will be remembered for years to come.
Unfortunately Spain possess the best footballers on the planet in Messi, Ronaldo, Xavi and Iniesta, but don't let that overshadow the progress that some players have made this year in England and we've been lucky enough to witness it. Let's celebrate this year's improvement in English football by looking at the most improved footballers in 2012:
Marouane Fellaini (Everton)
You would have been forgiven for thinking Everton would have a tough time recovering from the loss of talisman Tim Cahill when he departed for the MLS, and would probably be wondering who The Toffees would bring in to replace such a key figure. However, David Moyes produced a tactical masterstroke as he realised the successor to Tim Cahill was already at the club. Marouane Fellaini's combative, dominant playing style, mixed with glimpses of world class technique and tactical awareness has seen him move from his defensive midfield role to a more attacking position, allowing him freedom to move forward, and Everton have been rewarded massively as a result. His display in the first game of the 2012/13 season at home to Manchester United earned him many plaudits and people started to open their eyes to the large Belgian with real interest. He's kept up this form in the opening months of the season and has been amongst the goals regularly, which resulted in him earning the Premier League Player of The Month award in November. The only negative of Fellaini's year and an aspect of his performance he needs to work on is controlling the aggression he displays on occasions, as he is serving a 3 game ban following a headbutt incident against Stoke, which clearly disappointed manager David Moyes who claimed that he should receive punishment for his actions. If Fellaini can discipline himself and play in the right manner, we could see him be an unstoppable figure in 2013 as Everton look to claim a European spot.
Raheem Sterling (Liverpool)
I'm pretty sure I'm not the only person who dreamed of being a Premier League footballer as a kid, playing for one of the top teams, with the world watching in anticipation of what you have in store for the opposition defenders as you try a trick or two to get past them and put in a cross or have a shot. Raheem Sterling is living this dream. At just 17 years of age Sterling is the second-youngest player to ever play for Liverpool, debuting in March against Wigan, and since then he has taken to first-team football ever so well, with new manager Brendan Rodgers using him frequently in the new season. A winger with blistering pace and fantastic control with the ball at his feet, Sterling has the potential to become one of the best wide men in the world let alone England, and a trait he possesses is he never gives up and he is a constant threat for the entire game, and his determination to succeed has been evident since he stepped out on an Anfield pitch which has seen the likes of Dalglish, Keegan, Owen and Steven Gerrard produce historical moments. Knowing that alone would have fazed any 17-year old footballer, but not Raheem Sterling. I'm personally expecting big things from him in the future, and with the recent news of Liverpool tying his long-term future to the club, the red side of Merseyside can be optimistic over the next couple of years with bright talent like Sterling around.
Wilfried Zaha (Crystal Palace)
'He's just too good for you' has been a very frequent chant amongst the Crystal Palace fans, and Wilfried Zaha is the reason behind it. Zaha is probably the most talked about prospect of the year outside of the Premier League, and the media strongly believe he is the next big thing, along with the fans at Selhurst Park who take pride in having a player who beats men for fun, with his pace and natural ability when dribbling the ball he is unstoppable when at his best. He has already been linked with some of the top clubs in the country and has also been capped by Roy Hodgson in a non-competitive friendly against Sweden, showing the England boss' intention to get Zaha to choose England over his place of birth in the Ivory Coast. Unfortunately, when the media surround a young player and look at every single movement they make, it affects their performance to a certain extent, and in recent weeks Zaha has not been as amazing and shown the qualities he's had all year. He's such an exciting talent to watch but all this attention can't be helping his development, but in 2013 we will learn a lot about his mentality and find out whether or not this kid really does have what it takes to play at the top level, and under Ian Holloway he has a manager that will really look after him, so the chances of seeing him amongst the world's elite are highly likely.
Jack Butland (Birmingham)
England have had to wait a number of years for a top class goalkeeper to emerge from within the ranks, then finally found one in Manchester City's Joe Hart. It now appears that there is going to be another addition to that club in Jack Butland. Another young player in the Championship to earn an England cap this year just like Zaha, Butland has been really impressive between the sticks for Birmingham City, despite their early season struggles. Just 19 years of age – relatively young for a goalkeeper, he looks far more experienced than his age suggests, and there are plenty of eyes on him; reports have said that up to 52 scouts were present to watch him during his loan spell at Cheltenham. He took part in the Olympic games over the summer, and was also subject to a £6million bid from newly-promoted Southampton; a bid which was swiftly rejected as Birmingham attempt to keep hold of their top prospect. It remains to be seen though how long they can hold on to him for, if he continues to be considered for the national team and The Blues stay in the Championship, his ambition will be tested by offers from big clubs, as he looks to further his career. He looks like he will be the successor to Joe Hart in the England goal, but 2013 is a big year that will test his consistency and see if he can take his game to the next level.
Jordan Rhodes (Huddersfield & Blackburn)
Ipswich Town must be seething after allowing Jordan Rhodes to go back in the summer of 2009, following his meteoric rise of goal-scoring excellence. Signed by Huddersfield manager Lee Clark for a fee of £350,000 Rhodes began life at The Galpharm Stadium with a bang, scoring 6 goals in his first 6 games for the club. He's managed to keep similar form up in 2012, finishing a promotion-winning season with Huddersfield as the League One top goalscorer with 36 goals; an astonishing achievement at any level. He also equalled a Huddersfield record by scoring 5 goals and matching the achievement for most goals scored in a match by a single player, whilst also netting 6 hat-tricks in the 2011/12 season. It was almost inevitable that Rhodes would leave in the summer for pastures new as a large number of clubs sought after his signature. He decided to join Blackburn for a fee of £8million, a massive transfer fee for a Championship side to pay for a player, but that is testament to Rhodes' goalscoring ability which can prove invaluable at times. A striker that can score all different types of goals, with his head or either foot, Rhodes finds space in even the most crowded of areas and finishes with such confidence. So far into his Blackburn career he has netted 12 goals in 21 appearances; not bad considering the tough time Rovers have been going through of late, so you can be sure once they start firing consistently, so will their front-man, and once that happens they will be back in the Premier League in no time.
It's really hard to believe that just over 3 years ago Charlie Austin was a semi-professional footballer plying his trade at Poole Town, but he has come on leaps and bounds since the day he signed for Swindon Town, where he impressed so much that he earned a move into the Championship at Burnley, where he has been at since January 2011, and finished last season as the club's top goalscorer. He looks set to earn that accolade a second consecutive year in a row where at the back end of this calendar year he has smashed records at Burnley by becoming the first player in 53 years to score in 8 consecutive games, whilst becoming the quickest ever player to reach the 20 goal milestone in a season, succeeding in this after just 17 games. His off the ball movement is highly dangerous, and ability to be in the right place at the right time is amazing, and I'm sure it won't be long until this former brick-layer is plying his trade in the Premier League with a goals-per-game ratio like his.
This time last year Sam Byram is a name that even a fair few Leeds fans weren't familiar with. He had never featured in the first team at all and was only offered a professional contract back in May. He was given a chance to impress by Neil Warnock in a pre-season tour to Cornwall, and he grabbed that chance with both hands. He was kept in the first-team for the remainder of pre-season and was placed at right-back for the Capital One Cup tie against Shrewsbury. He was so impressive in that game that he was given a starting place in the opening league game of the season against Wolves, and since then he has never looked back. He scored a cheeky lob that even the most experienced of players wouldn't attempt against Oxford and the 19-year old is the only remaining ever-present outfield player in the Leeds team so far this season, an impressive feat for his first campaign. As of yet he hasn't been called up for any international honours but if he continues his solid form in either right-back or right-midfield then it won't be too long before an England Under-21's cap comes his way, but for now Warnock persists with the latest hot prospect to come through the academy at Thorp Arch.
Alex Oxlade-Chamberlain (Arsenal)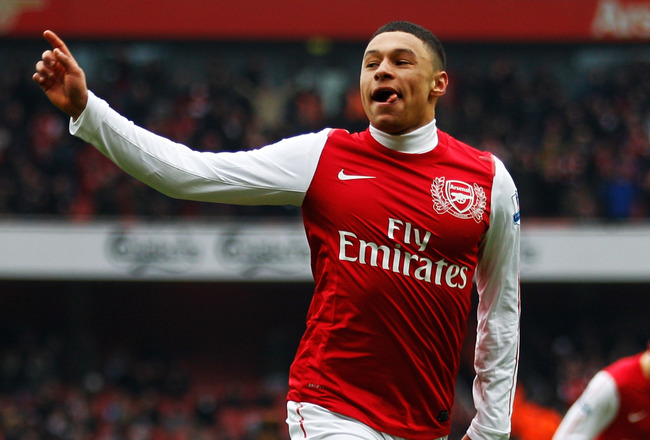 There must be something in the water down at Southampton for developing quality footballers. First it was a young Theo Walcott who was unstoppable in the Championship, then Gareth Bale who is now a world-class player. Now, Alex Oxlade-Chamberlain was developed there and has been a revelation at Arsenal, where Arsene Wenger has actually used him for the first-team rather than farming him out on loan, and he has taken to the club ever so quickly. In the 2011/12 season he impressed so much that when he was replaced in the second half against Manchester United in January by Andrei Arshavin, the fans booed the decision to take Chamberlain off as he was such a threat to the Manchester United defence throughout the game. He has a real love for the game and his vision matched with his ability to run directly with the ball is a real gift, and suits Arsenal's playing style perfectly, and they have complimented each other very well as his career develops at a rapid pace. Oxlade-Chamberlain narrowly missed out on the PFA Young Player of The Year award for the 2011/12 season to Kyle Walker, but to be considered for that accolade at just 18 years old is extraordinary, so extraordinary that he was called up by Roy Hodgson for the EURO 2012 campaign, where he was given a starting place for the opening game against France, and he has consistently made the England squad since then. Former Gunner Robin Van Persie has said that Chamberlain is the future of Arsenal and England, and judging by his performances in 2012, he's not wrong. 2013 will prove to be a huge year for Alex Oxlade-Chamberlain; a year where he can establish himself as an England regular and a key Arsenal player, whilst sealing himself as one of the world's top players, which I fully expect him to achieve.
With prospects like these plus other players that haven't even been mentioned present in English football, 2013 is set to be one enjoyable year for fans in this country, so sit back, watch and enjoy young players like these shine and gain recognition for their ability. And don't forget, Brazil 2014 is only around the corner, so with English players like these hanging around, winning the World Cup isn't such a ridiculous dream as we thought.