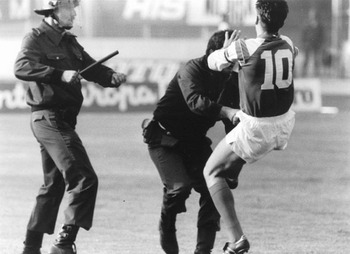 There is debate as to whether sport and politics should ever cross over into each other. There are examples of when political events inspire a team or individual to make a stand. One such is the Black Power salute given by medallists in the 1968 Olympics, or the Hungarian water polo team in the 1956 Melbourne games who ought revenge on the Soviet Union team in retaliation for the Red Army's brutal suppression of the uprising in Budapest. Other times a deliberate stand is made by a country in response to political
events. The United States refused to send a team to the 1980 Moscow Olympics in response to the Soviet Union's invasion of Afghanistan the previous year.
There are times however when the actions of an individual transcend across into the political arena almost by mistake. Jesse Owen's gold medal haul at the 1936 Berlin games made a mockery of the Nazi ideology of Aryan supremacy. There is another example too, one which helped move a region to war and eventually its
independence. Zvonomir Boban's karate kick aimed at a policeman in an attempt to rescue a Croatian fan against receiving a beating for his part in a pitch invasion, gave Croats the spark they needed to help inspire their path towards self determination.
The fractious ethnic mix of Yugoslavia which was held together for many years by Marshall Josip Tito showed signs of cracking after his death and the rise of Serb nationalism under Slobodan Milosevic.
The country was tipping towards inevitable civil war and its eventual break up. Slovenia was first to gain its freedom after the Ten Day War in 1991, independence was declared and European Community recognition came in January 1992.
Croatian nationalism was also on the rise and its fight for independence began in 1991 and it would be a long, drawn out war with atrocities committed by both sides as well as its spilling out into Bosnia Herzegovina. Franjo Tudman, a Croatian nationalist politician, had recently made massive gains in the first Croatian elections in half a century. Croats were beginning to find their voice again. The Sahovnica (the red and white heraldic shield, now the makeup of the Croatian football kit) was hung from buildings, Croat replaced Serb as the national language and Serbs were losing out on work as ethnic make up began to play a part in employment suitability. Tudman's policies were on a collision course with Yugoslav president Slobodan Milosevic who wanted to keep the Yugoslavia state in its collective form with much of it controlled b Serbs.
The spark for war has been attributed to football and in particular one mans actions in a football match. On 13 May 1990, Dinamo Zagreb played Red Star Belgrade in a match which became the focal point for ethnic tensions across the region.
Up to 20,000 fans attended the match, including 3000 Red Star fans led by notorious Serb war criminal Arkan, whose armed group the Tigers would in time become feared by ordinary Croatian and Bosnian Muslims alike. Before the game, Red Star fans (known as Delije) clashed with Zagreb fans (known as the Bad Blue Boys). Within the ground itself fans again clashed. Partizan fans attacked with knives, ripped seats and sang Serb nationalist songs. Zagreb fans tried to invade the pitch in retaliation but were brutally beaten back by police who fearing they were being overwhelmed used tear gas and water cannon. After a while the situation came under control again, although many hundreds lay injured on the pitch.
The following season Croatian and Slovenian clubs withdrew from the league and the league itself soon disbanded as civil war enveloped the country.
One significant moment though is celebrated by Croats above all others as a defining act against Serb brutality. Despite the violence on the pitch, some players hadn't managed to return to the
dressing room. Seeing a Zagreb supporter being attacked by police, Zagreb captain Zvonomir Boban attacked the policeman, kicking him repeatedly to try and help the supporter. Zagreb supporters rallied round Boban to protect him as he left the field. Hailed as a national hero in Croatia, Boban was vilified in Serbia and was suspended by the Yugoslav FA.
Boban himself was brought up in a nationalist area of southern Croatia and has been described as a "romantic nationalist" and he would later say of the incident "Here I was, a public face prepared to risk his life, career and everything that fame could have brought, all because of one ideal cause; the Croatian cause."
There is a statue which stands outside Zagreb's Maksimir groundwith a plaque reading 'To the fans of the club, who started the war with Serbia at this ground on May 13, 1990." Whilst there were many individual causes of Croatia's war for independence, what cannot be ignored are Boban's actions. They were caught on camera and played across news networks for all of Croatia to see. Many Ultra fans of both sides that were there that day served for their respective sides in the Yugoslav wars and the day itself is iconic in Croatian symbolism and culture still.
Boban himself joined AC Milan in 1991 and had a successful career winning four Scudettos and a Champions League in 1994. He captained Croatia at Euro 1996 and to third place in the 1998 World Cup. His most important kick however, was not of a football but towards a countries fight for independence and freedom.