Why Manchester City have made a big mistake.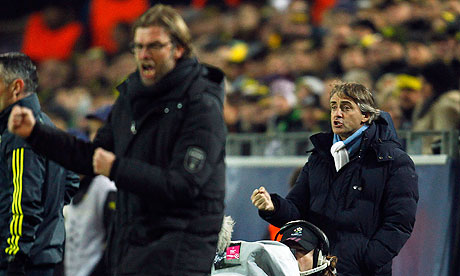 Roberto Mancini's Man City went into their final Champions league game against Borussia Dortmund in the ominous position of becoming the first English team to not win in single group game. For Man City, a win at the Westfalenstadion would have almost guaranteed them a place in the knock out stages of the Europa League as long as Real Madrid, generally considered to have the best squad in Europe, could beat Ajax at home.
Many would say that Manchester City not qualifying for the Europa League will be a blessing for the rest of their season. That they would struggle with the Thursday/Sunday pattern of the Europa League and that fewer games would give them a much better shot at retaining their premier league crown. With that in mind it seems Mancini rested players perhaps not too bothered about the result and looking towards the Manchester derby. Lescott got a rare run out along with Scott Sinclair and another start for Dzeko. It seems the Europa League wasn't Mancini's priority. Man City had a fantastic chance, Dortmand had already qualified and rested 6 players from there weekend clash against Bayern Munich, resting players like Lewandowski, Götze and Subotic.
The question is, why is this a mistake? And what could Man City have gained from a run in the Europa League? For the answer to this, you need to look at why Man City were in this situation. Why were Man City in a group along with the champions of Spain, Germany and Holland? The answer lies in Man City's UEFA coefficient. The coefficient is calculated with the results of the club from the Champions League and the Europa League for the last 5 years as well as 20% of the coefficient from the country the club is from, in this case England who are second only to Spain.
However due to Man City's rapid rise into the Champions league, their current position in the UEFA club coefficient is 19th. To put that into some context, they have 69.364 points, less than half of Barcelona (1st 149.690) and only 3 points more than Villarreal who have been relegated to the Spanish second division. Man City have a weak coefficient due to a low score in 2009/10. They now have a low score for this year, a score that will live with them for 5 years.
A run in the Europa League would have been hugely beneficial for their coefficient. They would be easily the strongest team in the competition and would have a genuine chance at winning a trophy. You may think that the Europa League would score much lower than the Champions League. However whilst Chelsea, last years winners scored 33.05 points for there win last year, Atlético Madrid, partly down the there improved county coefficient scored 34.171 for their Europa League win. Athletic Bilbao even scored 27.171 points for their Europa League final position.
A Europa League run could have massively improved Man city's coefficient points total, climbed them up the table and moved them up into higher pots when it comes to future Champions League draws and helped them avoid future "groups of death". Now they have to live through 5 years with their poor points score in 2012/13 as a stain on their coefficient. This certainly wasn't Mancini playing the long game.
Ryan is an IT professional by trade and bases all of his football knowledge off of the Premier League, Chelsea and Football Manager.