Centre Back
The Destroyer
Clubs - Red Star Belgrade , Spartak Moscow , Manchester United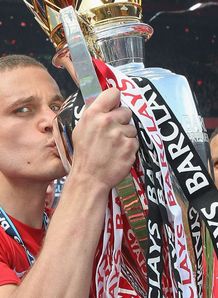 What do you think of when you watch Nemanja Vidic play? Born leader, the ultimate uncompromising centre back, quite scary? He is in fact all 3 and much, much more. Nemanja Vidic has been an essential cog in the Manchester United machine and has offered the much need stability at the back which has been occasionally been waning for the Red Devils as they continue their dominance as arguably the biggest club in the United Kingdom and one of the biggest in the World.
Vidic first tasted success with Red Star Belgrade as he won various Serbian leagues and cups and a move to Spartak Moscow soon followed as he forged himself an hard-line reputation His raw talent for defending and attributes as a born leader grew interest from a certain Sir Alex Ferguson and a £7 million move from Moscow to Manchester took place on Christmas Day 2007 and Vidic proved to be one of Sir Alex's most shrewdest pieces of business in the transfer market. A formidable partnership with Rio Ferdinand began to gather pace and trophies followed in due course. 4 Premiership titles, 3 League Cups, 4 Community Shields, 1 World Club Cup and a Champions League medal in 2008 littered by many individual awards ranging from 2 Premiership Player of the Year (no mean feat for a centre back) to being in the FIFA World XI twice shows the staggering amount of success that he has achieved in only 5 years of wearing the red of Manchester United and not to forget many of these as an esteemed captain. If it wasn't for the fact he has been representing a somewhat under-achieving Serbian national side he would surely have more accolades on a national stage and there cannot be many nations that wouldn't replace their current centre-backs with someone of the quality of Vidic.
What sets Vidic apart from other defenders around the globe, ones as good as Gerard Pique for example, is his ability to at times single handedly carry his team through tough times. Would Manchester United had won the Premiership if Nemanja wasn't injured for a majority of it? Many would suggest so. Would Manchester United of been bullied by a Tottenham Hotspur front-line as they did this past weekend with Vidic in their ranks? You can bet he would not stand for that. The aura surrounding the man is one that demands such high standards instils a work ethic and potency for defending that has been unparalleled over the last 5 years. And with United's so-called noisy neighbours City now challenging United's dominance of recent English football, you can guarantee that once back from his current injury that Nemanja will be the one leading the cause to reclaim their crown of Champions of England.
To put it simply; leader, legend, captain, centre-back. Vidic.