The world can learn from how we embrace different races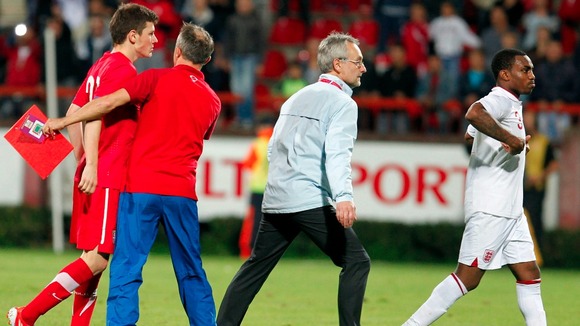 Article By
Oli Gamp
WHEN YOU GOT IN TROUBLE AT SCHOOL, you normally got a really inconveniently timed detention and a letter home to your parents. The rollicking that resulted usually made you too scared to ever do it again, or at least make you think about the hell you'd have to pay.
Guilty or innocent, if the FA thinks John Terry really is a racist, then a four game ban is an insult to humanity. If we carry on with petty punishments like this, then every ounce of energy we've put in; the entire 'kick racism out football' campaign will have become an utterly futile effort.
At my school, we had these things called 'departmental detentions', where if you messed around in class you had to go back at lunchtime for about 15 minutes. It was such a breeze that we just kept messing around knowing we'd have a very small price to pay for it. What happened in Serbia was disgusting, but the punishment they're going to receive for it is arguably a more painful thought.
We can all have a pretty accurate guess at what it will be. A small fine? A dull condemning from UEFA? More or less. Paul Ince reckons Serbia should be banned for ten years, and he may have a point. People keep asking when racism will be banished from the sport but the answer is, quite simply, never. Like my detentions at school, people have a good knowledge that nothing they do in a crowd of people doing the same thing can land them in an ounce of serious trouble. But why not?
A few years back, a group of Tottenham supporters hurled vile, racist chants at Sol Campbell, who infamously left White Hart Lane to sign for Arsenal in 2001, during a game between Portsmouth and Tottenham at Fratton Park. The offenders were caught on CCTV, tracked down, arrested and banned by Spurs for life. I don't think I've ever seen a similar punishment for since, but what an amazing way to crack down on racism.
We have the technology to find anyone anywhere in a football ground who racially abuses a player on the pitch. At some grounds, the stewards have been bestowed with tablet technology, which has been linked up with the CCTV cameras, so they can apprehend unruly supporters quickly.
The aftermath of the events from Tuesday night's U21 game between Serbia and England just sums up the current attitude to racism in football. The victim gets sent off, and the offending country's FA says he deserved it and denied any racist taunts from its fans.
"
(The) FA of Serbia absolutely refuses and denies that there were any occurrences of racism before and during the match at the stadium in Krusevac
." Said a statement. "
And while most of the English team players celebrated the score, their player number three, Danny Rose, behaved in inappropriate, unsportsmanlike and vulgar manner towards the supporters on the stands at the stadium in Krusevac, and for that he was shown a red card."
Ridiculous. There's no way we're going to rise from the rubble with naivety and stubbornness like this. I think in some ways, that statement basically spoke on behalf of the Serbia fans. There's nothing more frustrating knowing the only power that can ban them for life is instead sticking up for them.
It's always when English teams play against other teams in European competitions that we see this happening, you very rarely see an English supporter shout racist abuse at a black player. It's because we've always had people of all kinds of different races in the Premier League and we treat them no differently to a white player. English fans idolise footballers, regardless of skin colour. Think about Paul Ince, Thierry Henry, Andy Cole, Ian Wright, Stan Collymore and John Barnes.
The Serbian National team possesses no black players, so they seem to think having players of different races is abnormal. But when you think about it, how many other countries are there in Europe that has black footballers on their team? Italy have Mario Balotelli, Spain used to play Marcos Senna, Germany have Cacau. France and England are the only teams to have a mixed number of players of different races, that's why you never hear about racist chants from these countries on an international stage.
However, this isn't to excuse any of the other nations from racist abuse of players simply because they aren't
use to seeing them play in their own country. Everyone is equal in football and it's pathetic that we keep hearing about 'monkey chants' and bananas being thrown on the pitch every other month. We have seen racist behaviour from English fans domestically, with tweets to footballers and various chanting from time to time, but certainly when on the International stage, England supporters, home and away, are the role models in Football. If the likes of Russia, Serbia, Croatia, and other teams across Europe without black players on their team sheet, learnt and adapted to the way England fans conduct themselves at a match, we might not have anything to kick out of football at all.
Oli is a Spurs Fan and can be found on twitter
here