Patience and loyalty can conquer frustration at The Emirates.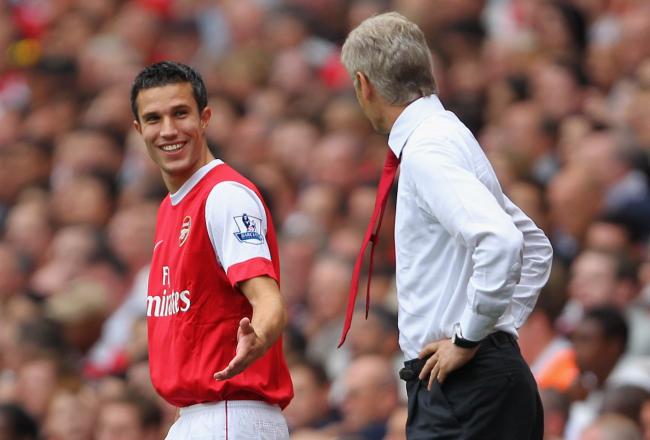 This article will focus on Arsenal's transfer policy, but I am going to start with a question: who here loves Twitter?
I do. I am absolutely OBSESSED with it. I created an account back in 2009 to distract myself from the dissertation I was writing about how much of an arsehole Adolf Hitler was (not the most challenging
of dissertations to be honest), and have since spent an unnatural amount of time 'tweeting' relentlessly. I love it. Without it I wouldn't have found out last week that Kate Middleton's name is an anagram for 'Naked Tit Model'. That alone has made the hours and days lost to it worthwhile.
There is one thing that really winds me up on Twitter though: football. Following football through Twitter is an absolute bloody nightmare. Digging into any controversial footballing topic requires patience longer than the queue of people waiting for a chance to punch Luis Suarez across his chops.
It probably doesn't help that football has gone and got itself all temperamental in recent years. Three straight defeats represents a crisis. Players are being bought for sky-high fees and cast
aside as soon as a year later. In 2010 the average 'lifespan' of a manager in England's top four divisions was just 1.4 years. Yes it's a 'results business', but the patience has disappeared – replaced
by unprecedented levels of fickleness – and loyalty is a scarce commodity these days.
Twitter probably isn't to blame for this, but boy oh boy is it a good place to reinforce the point. Unbridled joy from football fans on Twitter can turn to aggression and mass hysteria in days, hours, even minutes. Twitter exposes the tribal and sometimes downright ugly nature of football fandom. And when things are going wrong, Twitter ruthlessly exposes the true feelings of a supporter base simply through the click of a few buttons.
For Arsenal fans, the hysteria and hostile feeling peaked around this time last year, when a disastrous summer transfer window not only left Arsenal way off the title pace but outside the top 4. Media outlets declared the club were in crisis, and matchday protests were arranged, which Twitter helped to spread, to show the ill-feeling towards the board, players, and even towards the manager that has given so much to the football club. For the first time since day one in the Arsenal job, Arsène Wenger was facing calls to be sacked, and even now fans still question whether he is past his best. Arsenal's shambolic summer of 2011 still holds scars in 2012.
There were several reasons for the animosity of the past 12 months, all of which are still relevant: Arsenal's well-publicised trophy drought coupled with a publicly conceived lack of transfer ambition amidst consistent reports of significant annual financial profits. This is all compounded by players leaving in acrimonious circumstances, threatening to run their contracts down and forcing big-money moves elsewhere.
And as is so common in difficult times, the manager became the face of the problem. Questions have been asked – are Arsenal being bullied by their own players? Do new figureheads Stan Kroenke and Ivan Gazidis care about on-pitch success? Why are the club refusing to spend readily available money?
But the crucial question is this: has the once untouchable Arsène Wenger's transfer policy tarnished Arsenal fans' faith in him?
Let's start with the background; Arsenal's transfer policy is based on a strict business model designed to haul them out of the debt they took on from their move to the Emirates Stadium in 2006. The club relies on Champions League revenue and transfer market income to turn a profit. This defies the current trend set by their Premier League rivals; Manchester City and Chelsea basically swim in billionaire owned pools of cash, whilst Man United, Spurs and Liverpool also have a penchant for spending big money when the opportunity arises.
Much talk goes into meeting the new regulations that Financial Fair Play will enforce, and Arsenal even open their 2011/12 annual financial report, released on Thursday, with the line 'ARSENAL STRONGLY PLACED TO MEET UEFA'S NEW FINANCIAL RULES'. However, it is worth mentioning that Arsenal's 'self-sustainability' model was already in full swing long before the notion of FFP came into the public eye. Arsenal have stuck to their business model because they know that once the stadium debt is paid off, they will be up with the very richest clubs in world football for the next 50 years
and probably beyond. It's the same long-standing vision that Arsène Wenger started on the pitch back in 1996 – the aim of developing a famous but stagnating football club into one of the worlds biggest and best.
It's also worth highlighting that the overly positive 2011/12 financial reports (£37m of pre-tax profit) show some fundamental shortcomings in Arsenal's current model, namely commercially – Arsenal's commercial deals, agreed as a necessary step to help fund the stadium move, made £52m in commercial revenue last year, compared to £118m by Manchester United. That's a staggering deficit between two clubs that have competed at the same level for the majority of the last 14 years.
This gap in Arsenal's financial capability is no secret, and with the current commercial deals up for renewal in 2014, there is opportunity to take significant strides in their long-term goal with major new sponsorships. This was confirmed by CE Ivan Gazidis in a recent interview for the Mirror. Speaking of the expected increase in commercial income and the impact it will have, Gazidis said: "We will be separated away as one of the top five clubs in the world in revenue, versus had we stayed at Highbury and we stayed with six or seven other clubs in the same ballpark position, we would be in amongst them scrambling somewhere between mid to upper table in financial terms.
That would be the financial constraints he [Wenger] would be operating under. Even he might struggle in that situation. We get accused of a lack of ambition or complacency because apparently the board are only interested in the top four - that is absolute rubbish. To me this is the most ambitious football club I know. To be able to execute the vision is amazing to me."
All well and good, and certainly a recipe for future success, but 2014 is two years away, and Arsenal have already succeeded in seriously straining their relationship with the fans over the last six years. Are the fans patient enough to wait?
To me, seven years without a trophy is disappointing but only represents part of the problem. The greater problem lies in allowing key players to be sold year upon year, before they reach the peak of their power. Furthermore, to lose players of such quality as Cesc Fabregas, Samir Nasri and Robin van Persie due to pressure from the player themselves is unforgivable. These are players that can win Arsenal the trophies the fans so desperately crave. To lose top players so consistently, especially in the way they do, is not good enough for a club of Arsenal's stature.
2011 was the year things got ugly. Selling Fabregas and Nasri that summer was expected, and bringing in around £60 million for two midfielders that wanted out represented good business. But they
were two of Arsenal's stand-out players, meaning it was only good business if Arsenal had, as expected, prepared to replace them. It quickly became clear that they hadn't, with Wenger and Gazidis staging a panic shop more familiar to the lazy Dads you see charging around a motorway service station on Christmas Eve with a trolley full of toiletries for the wife and Haribo Tangfastics for the kids. Arsenal were an embarrassment, and Wenger was at the forefront of it, under constant scrutiny, rightly so to an extent.
Looking now, some of Wenger's recruitments during those frantic closing days of August 2011 are actually working out rather well; Mikel Arteta has been outstanding throughout 2012; Per Mertesacker has settled and is reinvigorated this term; even Andre Santos has become a bit of a cult hero at the Emirates. The shockingly disorganised nature of those transfers, though, proved to be a major defilement to the reputation of a manager famed for his astute attention to detail.
What provokes greater puzzlement is how the most successful manager in Arsenal's history can continue to lose the confidence of his best players year after year. Contract negotiations at Arsenal have become akin to scaling Everest on a unicycle – bloody hard work. And usually fruitless. Cesc Fabregas undermined his extensive contract and pushed his way out to Barcelona, whilst Samir Nasri and Robin van Persie simply refused to sign new deals, forcing Wenger and Arsenal into a corner and leading to rage-inducing sales to their Manchester rivals. Theo Walcott and Bacary Sagna look set to continue the trend, with Walcott already in his last year and Sagna openly criticising Wenger's transfer policy. Whether it's down to money or lack of trophies, only the players themselves will know, but given the overwhelming faith that Wenger has shown in his players over the years, the return he gets only confirms what was mentioned at the start – loyalty really is scarce these days.
Add to this a somewhat flawed wage structure and you have yourself some real problems. Wenger's theory of universal wage equality has led to major issues in selling fringe players and failed youngsters, as interested parties simply won't pay their wages. Messrs Bendtner, Squillaci, Chamakh and Denilson all collect £40k+ at Arsenal, and as a result, Arsenal simply cannot sell them.
What is generally agreed upon is, regardless of if you agree with 'self-sustainability' or not, Arsenal have made mistakes when it comes to buying, selling and keeping players. Some big ones, too. So there are two questions to answer: what can Wenger do looking ahead, and what do the fans do?
To answer the first question, it is clear that Arsène is still remarkably adept when it comes to finding quality players for good value. He made his name in English football by taking unknowns and forging
them into world-beaters, be they foreign imports or youngsters coming through, and the squad he has now is packed with both; Lukas Podolski and Santi Cazorla are clearly absolute steals at £10m and £16m respectively, while Kieran Gibbs, Alex Oxlade- Chamberlain, Jack Wilshere and most recently Carl Jenkinson are perfect examples of Wenger finding youth prospects and bringing them through/into the club. There is genuine hope that this team, with a full squad and a bit of belief, will be very strong this season. However, Arsenal haven't realistically had a side capable of winning the Premier League since the Emirates move and, while there's certainly potential to get closer to the leading group this year, maintaining their Champions League status still looks like Arsenal's best bet. Whether that is good enough for a frustrated fanbase remains to be seen.
Which leads us onto question two – what about the fans? Last season's hostility showed the growing feeling around the club that Arsène Wenger is replaceable and that Arsenal should be exceeding their current level. But despite that, and despite van Persie's departure, the positive signings made this summer and last season's encouraging improvement have showed that there is still tremendous support for Wenger, disputed transfer policy and all.
There are also signs that Wenger is starting to see things differently. He allowed Alex Song, one of last season's shining lights, to leave for Barcelona with three years still on his contract, in a move that suggests that if a player isn't 100% committed, they will be moved on, on Arsenal's terms. Theo Walcott is feeling the effects of this, spending most of his time on the bench this season. Maybe Wenger has finally swallowed his pride somewhat, and is starting to heed to demands of the fans to an extent – players of international experience and class are coming in to compliment the youth potential already there.
I guess it comes down to expectations, as well as a bit of perspective. Maybe the exceptionally high demands to win with style, something Wenger so tirelessly promotes, are too much to ask for without paying the stratospheric prices that Manchester City and Chelsea are paying for players. Arsenal hope to one day be able to compete on the same level, having naturally worked their way there, and the fact they are able to compete as they currently do, with the constraints they face, is a quite an achievement. Yes there have been mistakes, but patience and loyalty are wonderful things. Both have been diminishing in football recently, but sticking by Arsène Wenger and his transfer policies, frustrating as it can be, may yet prove to be extremely worthwhile for Arsenal.
For what it's worth, here's my perspective – my first ever footballing memory is sitting at my Aunt's house in Cheltenham on a Saturday afternoon, watching the final scores being read out on Grandstand. As they showed the Premier League table, I jumped for joy in discovering that Arsenal sat in a healthy 12th position, and proceeded to charge into the kitchen to tell the family the good news (looking back, it seems I now know how children in Stoke must feel, every week). That was in 1994, and I was six years old. Eighteen years on, I am sat here debating whether finishing third and securing a sixteenth straight season in the Champions League would be success enough for Arsenal. So my patience is still standing firm. I'm fully confident that Arsène Wenger will win Arsenal another Premier League title before he hangs up his transfer policy. And when he does, you can bet your life I will be tweeting the boo-boys asking how all that complaining went for them.