Man on the Post's team of the Modern Millennium
Goalkeeper
Saint Iker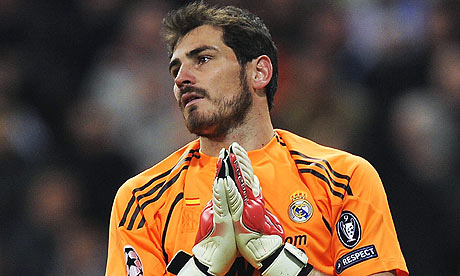 Post by Adam Scott-Allen
Iker Cassilas, A true one club man joining Real Madrid's youth set up in 1990 and having made his first team debut for the club in 1999 at the age of 18. He quickly dethroned Bodo Illgner and took his starting place in the team and in 2000 against Valencia he became the youngest goalkeeper to play in a Champions League Final, just 4 days after his 19th birthday. That season he was awarded the La Liga Breakthrough Player of the Year.
Since then Cassilas has been the man in possession of the number 1 shirt at Real Madrid and in his time at the club he has won 5 La Liga titles, 1 Copa de Rey, and 2 Champions League titles. He has won everything their is to win at club level he is currently 4th in Real Madrid all time appearance table with 634 appearances in all competitions, just 107 behind the all time record holder Raul.
Cassilas also made his debut for Spain in 2000 in a match against Sweden, aged 19 years and 14 days. He has since won 140 caps to become Spain's all time leading cap holder. This is an even more astonishing achievement we you consider the fact that to do this he has had to keep out players of the quality of Pepe Reina, Victor Valdes and Santiago Canizarez. He is currently 23rd in the list of all time international cap holders. During his time between the sticks for Spain he has, much like his club career won it all, winning the World Cup in 2010 and the European Championships in 2008 and 2012, in winning the latter being part of the first country to win 3 major competitions in a row.
Ever since his debut at such a young age Cassilas has always been an athletic and agile shot stopper who had the ability to make fantastic reaction saves to efforts that he would have no right to get to. As he has aged and matured he has developed and improved excellent distribution skills and commanding presence of his area and defence. At times, due to the attacking nature of the teams he played in front of and the some what miss thought recruitment policy of his early years at Madrid he was playing with very little defence in front of him whilst still taking them to league titles and champions league glory.
In his time at Real Madrid, Cassilas has seen 7 presidential terms and 11 different managers he has been the one and only main stay at the club. During Florentino Perez's presidency the club went through a Galatico era of recruitment. After the Signing of Zinedine Zidane in 2001, Perez named the policy as "Zidanes y Pavones" referring to the idea of signing world class players and promoting players from the youth academy. Since that time, Only Iker Cassilas has managed to cement and keep his place as a recruit of the Real Madrid youth system where even Francisco Pavon failed.
In 2008 he and Raul were offered "lifetime" contracts for Real Madrid, Cassilas contract runs until 2017 and automatically renews every year after that if he plays 30 competitive games for the club.
Cassilas is the current captain of both Real Madrid and Spain as looks to lead them to a historic 10th European Cup triumph and to try and defend the World Cup and be the first non South American team to win it in South America. In Iker they have the best goalkeeper in the world in their teams and with that they will have a very strong chance of achieving their goals.
Ryan is an IT professional by trade and bases all of his football knowledge off of the Premier League, Chelsea and Football Manager.