Footballs biggest poison challis? Or pressure like no other?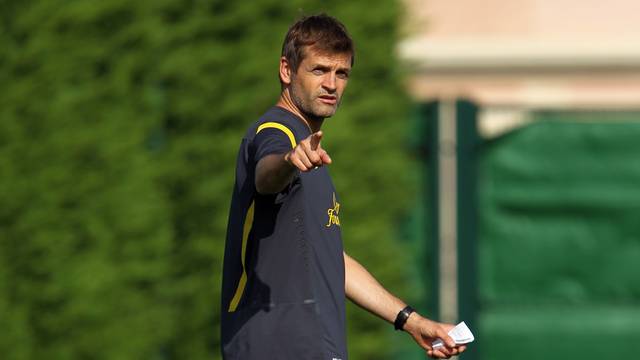 On the 27th April 2012, Josep Guardiola, the most successful manager in Barcelona's history announced he would step down from his position at the end of the season. A position he had held since the beginning of the 08/09 season, 4 seasons, 14 trophies. Under Guardiola, Barca were back.
They had won the Champions league in 2006 under Frank Rijkaard, the first since the Dream Team in 1992 at Wembley under fellow Dutchman Cruyff, but towards the end of his reign Rijkaard's Barcelona had begun to look sloppy. Super stars such as Ronaldinho, Eto'o and Deco were causing trouble in the dressing room, were phoning it in training and as a result the intensity around the entire squad had dropped.
As a result the president, Joan Laporta, pulled the trigger. The Rijkaard era was shuffled out and in true Barcelona style in came Guardiola, promoted from his position as Barcelona B where with Vilanova along side him, the team had achieved promotion. After a quiet repatriation to Barcelona Guardiola was now the captain at the helm, the man destined to bring glory back to Barcelona with only one year of coaching experience and having never coached in a top flight league, he was at the wheel of one of footballs most iconic clubs and Tito was his first mate.
Guardiola had the opportunity of a fresh start, he could do things his way. Many players in the first team squad were products of Barca's La Masia youth training. Guardiola, the captain of the dream team was an idol to some of the world's finest players as boys. Xavi and Pep even shared the hallowed turf of Camp Nou. He gained the respect of Leo Messi by fighting the club, allowing him to go to the Olympics and bring home a gold medal, an experience Guardiola knew the importance of all too well after his gold in the Barcelona Olympics of 1992.
This respect meant he didn't need a list of coaching honours as long as Sir Alex Fergerson to gain this squads attention, he had it from day dot. He removed the evils from the dressing room and was able to enforce his will, his personality and his style of play on the squad immediately. Codes of conduct were introduced and both intensity and standards of training increased, whilst this didn't translate to immediate
performances on the pitch, the team, by now full of European Championship winners, was a complete juxtaposition to that of the Rijkaard era only a couple of months previous. There was both intensity in pressing and possession and as understanding improved, greatness beckoned.
In countless footballing arguments around the world, in terraces, pubs, papers, radio and TV, fans, pundits, players and journalists alike were debating if we were in fact witnessing the greatest club side the world had ever seen. However despite the fact he won 2 Champions Leagues. Despite the fact he won 3 La Liga titles whilst dealing with the pressure of the Catalan media along with the sniping of the Madrid based press. Despite the fact he did all this removing Deco and the talisman Ronaldinho from the squad, Guardiola still has his doubters.
How good a coach is he? Can he build a team and make them great? And how well can he spot a player? His record in the transfer market at Barcelona is anything but impressive. Ibrahimavic, Kerrison, Chygrynskiy, Hleb and Caceras alone a rumoured £123 million pounds of talent that didn't make it at Barcelona for one reason or another. With the addition of high transfer fees paid for the successes, Alves, Villa, Fabregas, Sanchez and Mascherano, much of the clubs success has come from its production line at La Masia.
This in its self is another accusation labeled at Guardiola, any coach working with players of these immense quality would be successful. Any manager with a defence built on Puyol and Pique should keep it tight. Any coach who can put out a midfield of Busquets, Xavi and Iniesta should control the play to an extent that you can impose yourself on the opposition. And with any coach with Leo Messi, possibly the greatest player the world has ever seen, a player who can score 50 La Liga goals in a season should win more than they lose, right? What more instruction do these players need other that, "go out and play"?
And so we come to Tito Vilanova, number two under Guardiola. Almost as soon as Guardiola announced he wouldn't be renewing his contract, in the rich history of promotion from within, Vilanova was inserted into the head coach role. There was certainty in the Barcelona hierarchy, there would be no speculation, no media storm. They had their man, and that man was Tito Vilanova. Tito will inherit an incredibly talented team, a team that had 5 players in the FIFPro World XI, 9 world cup winners in its squad and in Leo Messi, a 3 time Ballon d'or winner, the greatest player of his generation, quite possibly the greatest player we have ever seen. And with 8 players of his first choice 11 products of La Masia, he has a generation of players who have grown up together, who know the intricacies of each other play and are bred in the Barcelona culture and who have great pride in wearing the shirt. These players dreamt of playing on the hallowed Camp Nou turf from there bunks in La Masia and they are kept hungry and sharp by the next generation doing exactly the same.
Vilanova has a squad who know the Barca way, a squad of player's who are realising a life long dream. Not a dream of unlimited riches, of flash sports cars or world wide celebrity but a dream playing great football for their boyhood club. A dream of going down in history for sporting achievement, for what they do on the pitch. This isn't just a club ethos engrained in the alumni of La Masia but can be found in recruits such as Abidal and Mascherano. As such what sporting complaints can Vilanova have? He has the most technically gifted squad in club football, a squad of naturally motivated winners who understand each others game perfectly. Players such as Fabregas and Mascherano who love playing for the club so much, who have such desire to be apart of the project that they are willing to take 7 figure a year pay cuts to be there, and not even play every week.
So as much a people are willing to sit on the side lines and snipe, to question Guardiola's ability, to belittle his achievements, these same people will claim that Vilanova's job is easy, that anyone could do it. Sam Allardyce famously once said "If my name was Sam Allardici I would be Real Madrid manager" surely you could put him in charge and he would deliver success, even without the name change. These players are just too good, too talented. There footballing intelligence, the Camp Nou style engrained in the La Masia recruits means they could do a Rodger Federer, they don't need a coach. Tito just picks the team, and they pretty much pick themselves, right? This truly is the easiest job in football.
One of the problems facing Vilanova is, what is success? He has just sat in the dug out besides the most successful manager in the clubs history, on one of the hottest streaks any club manager has ever had. He has been part of this success, and that success includes 14 trophies. Under Guardiola records have been broken, yard sticks moved. Even when this team has fallen short, its been by the finest margins. The champions leagues they didn't win include losing to Jose Mouriniho's Inter Milan in a semi final that included a 2 day coach trip due to an Icelandic volcanic ash cloud and semi final defeat to Chelsea that could have easily gone another way had a Leo Messi penalty not hit the bar.
This isn't a young inexperienced team, this isn't a virgin team that needs to learn how to win nor is this an over the hill team that needs rebuilding. This could perhaps be a team with its best years to come. Iniesta is 28, Fabregas and Messi 25 and there is a production line of talent that keeps coming Thiago Alcântara and Cristian Tello are 21 and Gerard Deulofeu is only 18. Vilanova can bring through these players as he sees fit, but all he has to do is maintain the status quo and keep on winning.
If Vilanova was to maintain the record of Guardiola, to win as many trophies, To do it with such panache, To stay true to the Barcelona values, will he have achieved anything? Will he have just carried on the virtues of Pep? If he goes in and changes things, different tactics, different players, he is messing with a winning formula. If he leaves it the same its all Pep's hard work, a continuation of his methods, they may as well give Pep the medals.
When Pep took over the squad had issues, a lack of intensity in training, a lack of desire, Super star players calling the shots. Pep, had not worked with these players, he had a fresh start, a clean slate on which to instill his tactics, his philosophy, his vision. He did this with Vilanova by his side, the sun dance kid to his Butch Cassidy. Was he the bad cop? Was he the arm around the players shoulders? Either way he has strong forged relationships with the squad, his image in the eyes of the squad already forged. It's this change of dynamic that I believe must be the downfall of many number twos.
Will Vilanova be able to instantly gain the respect that Guardiola was able to immediately demand of his team after his arrival in 2008? After all, while Tito was in fact a La Masia graduate, he never played a game for the first team, he only played 26 top flight La Liga games. This won't buy him the time Guardiola had at the start with the board or fans. This wont gain the attention of the playing squad. After all, Vilanova doesn't have a olympic gold medal, he wasn't the one who insisted that Leo Messi go to Beijing in 2008 and get his. Vilanova wasn't the captain of the dream team, the man Fabregas dreamed of emulating during all those training sessions in La Masia. Vilanova didn't mentor Xavi Hernández during his promotion to Barcelona A.
The list of assistant managers who have taken on the baton of the man they sat beside is long and plentiful, the list of those who have taken it on and ran with it far less so. Some such as Steve Keen at Blackburn and Steve McClaren with England have been out right failures. Some have taken on a squad in decline, at the end of its cycle. Whilst some have been simply dwarfed by the accomplishments of the man who went before him.
This is the problem facing Tito Vilanova, he seems to have 3 roads in front of him of which to go down, failure, insignificant accomplishments, or near perfection. He'll be battling to achieve this in a highly pressured environment, battling in the media spot light at a club for many doesn't just represent a city in Barcelona but the whole of Catalonia. He is fighting a domestic battle against the might of Real Madrid, the evils of Jose Mourinho and a battle that is seen as transcending football and is in fact part of the battle for an independent Catalonia. The weight of expectation on the shoulders of Barcelona is possibly the greatest ever on a club side, they are supposed to be the greatest of all time, that is some title to live up to. It wont be enough for Vilanova and Barcelona to win, if they don't do it racking up huge score lines, mesmerising the opposition with their passing and forcing teams into submission with 70% possession they and he will have surely failed. If they do not win as many trophies with this unique, beautiful football he will never step out of Guardiola's shadow. If he does, will he be only adding to Pep's legacy?
Adam Scott-Allen
Most of the information in this article was from the fantastic book "Barca: The Making of the
Greatest Team in the World" by Graham Hunter. Available
here
from Amazon. And
here
from iTunes.
Also available in all good book stores. A must read for any fan with a passing interest in Barcelona FC