Over and Out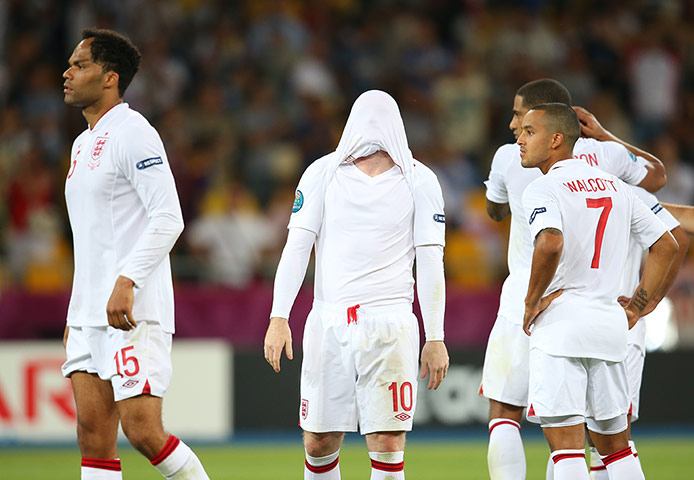 Well there we have it. Another tournament ended in the quarter finals and yet again in the cruellest
of ways. You just knew that as soon as that final whistle went that it wasn't going to be England's
night. But after 4 penalties there was hope. England had the advantage! Could this be the year
we ended our penalty shoot-out hoodoo? Well, No. Ashley Young hasn't impressed many at this
tournament and his final act was fittingly awful, thinking that trying to break the net was both
necessary and constructive. Silly Ashley. Advantage gone, and from then on Italy didn't look like they
would miss and England didn't look like they could score. And so it proved. Italy scored. England
missed. And Italy scored. Game over. Tournament over. Dreams over.
Many would say that justice was done in the form of the penalty shoot-out. England had been
poor throughout normal and extra time, creating their only decent opportunities in the opening
and closing minutes. In contrast Italy were excellent. Andrea Pirlo was in a different league to every
single other player on the pitch. He controlled the game from start to finish with an array of passing
which would have had Iniesta purring with delight. How the Italians didn't win, and win comfortably
in normal time is beyond me. Missing a number of very decent chances and constantly exerting
pressure on the English back line. Yet they failed to make it count and Rooney could have just nicked
it with an audacious bicycle kick with less than one minute remaining. Shame he wasted it on City
isn't it.
Anyway, away from the heartbreak of going out on penalties again there were three other quarter-
finals going on this week. All of these were pretty uninspiring affairs. CR7 carried Portugal through
to the semi-final on Thursday evening with a late header against the Czechs. Germany survived a
wee scare from Greece on Friday evening after missing many a chance but eventually came through c
omfortable winners. France were awful. Worse than England by some distance. I can't recall a so-
called 'top team' going out of a tournament with less fight than that. I'd be ashamed to be French
after watching that. Mind you, wouldn't we all? Spain also looked jaded. I don't think they've hit
top gear in this tournament yet and have a big flaw at the back. If Ronaldo and Portugal can exploit
this I can see a shock on the cards. As for the Germans. Well, I can't see Italy posing them much of a
challenge even with Pirlo at the top of his game.
So I can see the final being contested between Portugal and Germany. Obviously we'd prefer
Portugal to win, just for the reason that they are not Germany (2 World Wars and One World Cup
etc) but as long as it's a good game I'm not entirely bothered. What I am bothered about however is
what Roy does next. Dropping Ashley Young would be a good start and giving Oxlaide-Chamberlain a
run in the team. He can be built into a top international player and will no doubt be challenging for a
place in the starting eleven as we head into the World Cup qualifiers.
Away from Euro 2012 briefly. I'm a Leeds fan (Dirty Leeds and so on) and with stronger rumours
going around that a takeover has been completed its beginning to look a lot more rosy for us Leeds
fans with the signing of two quality championship players and possibly a premier league goalie. To
be honest it would be hard to get much worse from last year. But things are most definitely looking
up for our great team and promotion back to the top flight would be our aim for next season. But
that's a long way off. For now it's time for preparation and team building so Neil Warnock has time
to make a promotion challenging team.
So another tournament gone for England. Another penalty shoot-out loss. But a lot more
encouraging signs. I just hope the FA give Roy Hodgson time because I believe that with time, he'll
be able to build a team challenging for honours. But for now it's back home early and watching the
remainder of the tournament on TV. Unlucky England. Next time.