Euro 2012-Great Expectations
by Ben Dixon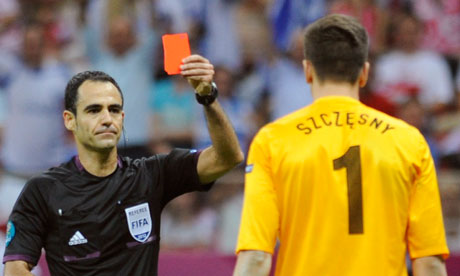 So it's arrived. Euro 2012 is here and if the first 4 group matches are anything to go by, it's going
to be one to remember. Even the opening ceremony was bearable…..just. The 8 minute spectacle
was both beautifully simple and stupidly complicated. Wonderfully sensible and insanely stupid. DJ
Karmatronic (Italy's answer to David Guetta) prancing around next to a classically trained pianist.
Mad. But it was short and probably done on a minimal budget. London 2012 take note.
No-one expected much of the opening fixture. Poland, who are only there due to the fact that UEFA
chose them to joint host the tournament, and a Greek side that were more interested in the coin
that was being tossed than the actual tournament. So, an awful and dull match was expected. Oh
how wrong we were. What followed was some of the most entertaining and watchable football we
had seen in major tournaments for a long while. 2 red cards, a missed penalty and some very iffy
refereeing decisions. The atmosphere was electric and there was absolutely no sign of any of the
greatly covered racism issue. Cracking start.
The next match was another cracker. The Andrei Arshavin of old ripping the Czechs to shreds in a
magnificent display which begs the question, Why not at Arsenal? From an outstanding performance
to one of staggeringly different quality. Aleksandr Kerzhakov. He probably had the whole of the
non-Russian population in tears of laughter. And probably some Russians for that matter. Missing
so many clear cut chances that his manager replaced him with…… Roman Pavlyuchenko. That gives
some idea of the quality he was displaying. Russia eventually prevailed 4-1 thanks to a couple of late
goals. The buzz of football was back.
Day 2. Group B. The so called "Group of Death" containing 2 of the biggest pre-tournament
favourites. The Dutch and The Deutsch. There was also the small matter of Portugal led by the
arrogant but brilliant Cristiano. Both had great expectations for the tournament ahead. Could they
cope with the pressure. Holland couldn't. RVP missed some clear cut opportunities. Robben still
looked slightly jarred from that Champions League Final miss. And Sneijder just wasn't as sharp as
usual. However they were still the better team and created the bulk of the chances. But missed
them all. And Denmark took there one main goal scoring chance. Not the best start. The Germans
however went about their business as it is normal for them to do. No fireworks. Just did what they
had to do. It was without doubt the biggest and most anticipated match of the Euro's so far but
failed to live up to expectations massively. But Mario Gomez's powerful header got the Germans the
winning start they required and just about met the huge expectation in Germany. Annoyingly.
Expectation could play a huge part in this tournament. Lack of it in England suggests that it will be
easier to win it? Logic? No. Bollocks. Quality football will win it. And I think Woy might just be able to
provide us with that. Never have expectations been so low, yet so high at the same time.
You can follow Ben on Twitter here --->
@BenDixon17
if youve enjoyed this article please leave a comment so we know cheers
all comments are those of the Columnist , Man on the post takes no responsibility for any offence caused