Easy As You Like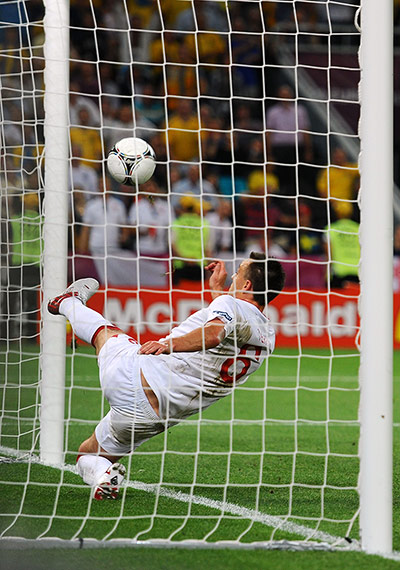 The English football team can give themselves a big pat on the back. Not only have we qualified
from our group (which many thought was beyond us) but we have done it as clear winners of Group
D. And let's be honest. It never really looked in doubt that we would qualify, apart from possibly a
15 minute spell against Sweden. Throughout the tournament we have looked fairly comfortable in
defence, pretty composed on the ball, and most important of all united as a group.
And there was more of the same tonight. Granted the Ukrainians started better and probably
dominated the first half but the best chance fell to a certain Wayne Rooney. It wasn't the easiest
header in the world but he, and most of England felt that he should have. However he could hardly
miss the next chance. All of 2 yards out yet it was still a beautiful goal from and Englishman's point
of view. However, yet again after scoring we sat back. And the Ukrainians scored. But luckily none of
the 5 officials seemed too bothered about the small fact of the ball crossing the line so promptly did
nothing. Goal line technology. Who needs it? Justice had been done for South Africa. Of course no-
one cared that we had, in effect, cheated our way to the top of the group. We had won. That was all
that mattered.
But was it? Something else mattered. Sweden against France. Zlatan Ibrahimovic. And one of the
best goals you will see in this tournament. A swivelling volley that gave Lloris no chance whatsoever
in the French goal, and gave England top spot in Group D. Amazing how a man can go from a
nation's worst enemy to the nation's best friend in a matter of days. Cheers Zlatan.
This of course meant we avoided Spain. But to be honest I think Italy will pose just as much as a
threat as Spain would have done. The Spaniards looked anything but convincing against Croatia
and could very easily have gone out. But no. They survived and booked a quarter final place against
France, a game that should be very entertaining to watch. I think France could nick that one quite
easily depending on which Spain turn up.
So, England have qualified as group winners. Only time will tell how important that is. However,
England is beginning to believe. But more importantly, so are the players. Tonight's goal line incident
showed that the footballing gods are smiling down upon England, and they haven't done that for
quite some time. Expectation is rising. Is this our year? Let's wait and see. History awaits. COME ON
ENGLAND!